Silvicultural practices in resin-bearing pine forests - a process of continual change ?
Les sylvicultures des forêts de production résineuses : en perpétuelle évolution ?
This article deals with changes in silvicultural practices, in particular for pine and spruce. Silvicultural practices for production are the main topic of the article but other functions are dealt with as the multi-functional approach is predominant in France. For instance, uneven-aged silvicultural systems have gained considerable ground, particularly using deciduous species, in response to a demand from society (stability, landscapes), but which in the case of softwoods may be in contradiction with optimal, highly mechanised silvicultural practices. Another remarkable change is the wood industry's demand for increasingly small diameters, which is also offers a means for adapting forests to climate change. But this trend is controversial. The revisiting of silvicultural methods that began in 1990 remains topical, with a view to establishing stands that are less capital-intensive and more mixed. However, the implementation of these methods has changed. Diversification of silvicultural practices might be further broadened by production models for medium-diameter trees with very little tapering.
L'article traite des évolutions en sylviculture, principalement du Sapin et de l'Épicéa. Si la sylviculture de production est le sujet central, les autres fonctions sont abordées car le contexte de multifonctionnalité prédomine en France. Ainsi, le traitement en futaie irrégulière connaît une extension significative, très marquée pour les feuillus, ceci pour répondre à une demande de la société (stabilité des paysages) mais qui, pour les résineux, pourrait être en contradiction avec l'optimisation économique de la sylviculture via la mécanisation. Une autre évolution marquante est la demande par la filière bois de diamètres de plus en plus petits, ce qui serait aussi une des adaptations possibles des forêts au changement climatique. mais cette tendance fait débat. La dynamisation de la sylviculture engagée en 1990 est toujours d'actualité avec une recherche de peuplements moins capitalisés et plus mélangés, sa mise en oeuvre fait toutefois l'objet d'évolutions. La diversification des sylvicultures pourrait être encore accentuée avec des modèles de production d'arbres de diamètre moyen et à défilement très faible.
Fichier principal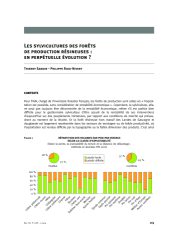 RFF_2014_3_269_Sardin.pdf (943.62 Ko)
Télécharger le fichier
Origin : Publisher files allowed on an open archive