Une méthode réflexive pour évaluer un nouveau programme de management de la sécurité
This paper aims to present a reflective method to evaluate the implementation of a new safety management program in the daily practices of managers in the railway sector. We conducted a study in five stages: 1) preparation phase with the sponsor of the evaluation, 2) kick-off meeting with the director of one of the company's infrastructure maintenance sites, 3) data collection through semi-structured interviews, 4) analysis of the collected data and 5) co-construction of a diagnosis on the implementation of the safety program in daily practices. We focus here on the third stage, which allowed us to develop original analysis and productions from the perspective of evaluating the appropriation of a safety management program.
Cette communication vise à présenter une méthode réflexive d'évaluation de la mise en œuvre, d'un nouveau programme de management de la sécurité, dans les pratiques quotidiennes de managers du secteur ferroviaire. L'étude exploratoire s'est déroulée selon cinq étapes : 1) phase de préparation avec le commanditaire de l'évaluation, 2) réunion de lancement avec le directeur d'un des sites de maintenance de l'infrastructure de l'entreprise, 3) collecte de données par entretiens semi-structurés auprès de 12 managers d'un établissement, 4) analyse des données recueillies et 5) co-construction d'un diagnostic sur la mise en œuvre du programme de sécurité dans les pratiques quotidiennes. La communication se centre sur la troisième étape qui a permis de développer des analyses et des productions originales dans une perspective d'évaluation de l'appropriation, par la ligne managériale, de ce programme de management de la sécurité.
Fichier principal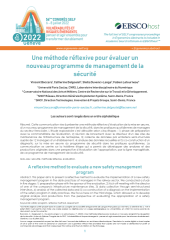 contribution-186-final-b.pdf (436.21 Ko)
Télécharger le fichier
Origin : Publisher files allowed on an open archive
licence : CC BY NC ND - Attribution - NonCommercial - NoDerivatives